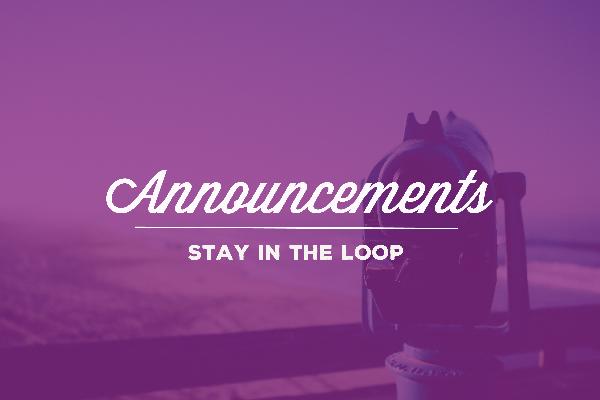 New Announcements! (Updated 10/20/2021)
Announcements will be posted here:
Please read the announcement on the main screen entitled "Church Reopening". Pastor Knox has posted a letter concerning the reopening of the church with important guidelines and plans for moving forward.

We are currently having services inside the church building: Sunday 11 am and 6 pm; Wednesday 7 pm.  We have nursery available for our Wednesday service and 11 am service only at this time.  We are also having children's church for up to 3rd grade during the 11 am service. Sunday School is at 10 am for all ages.  All adults will be meeting together in the sanctuary and our other classes will be meeting in their regular classrooms.  Join us!

Live Stream Services: Sunday 11 am; Sunday 6 pm; Wednesday 7 pm
Upcoming Events

1. Tune-in to Pastor Knox's Live Streaming (Thrive at 5:45) by following Community Baptist Church's Facebook Page.
2. We will have Senior Saints on Tuesday, November 16th at 12 noon  at the church. Please sign up so we can plan accordingly. We look forward to seeing you!

3.  Join Pastor Bateman for Visitation/Canvassing every Tuesday at 6 pm.  Beginning November 13th visitation/canvassing will change to every Saturday at 10 am. See you there!
4. We hope to see the men at Potter's Clay on Monday, November 1st at 6:30 pm.  There is a sign up sheet available so we can plan accordingly. Join us!

5.  Our next Women at the Well ladies Bible study is on Monday, November 15th at 6:30pm.   We will have a cookie exchange and a short devotional. Please sign up so we can plan for you. See you then!

6.  A new year of AWANA has begun! Children age 2 - grade 8 are invited to AWANA on Wednesdays at 6:45 pm.  Please see George Lewis if you have any questions.
Copyright &copy 2021 ChurchTrac Software, Inc.